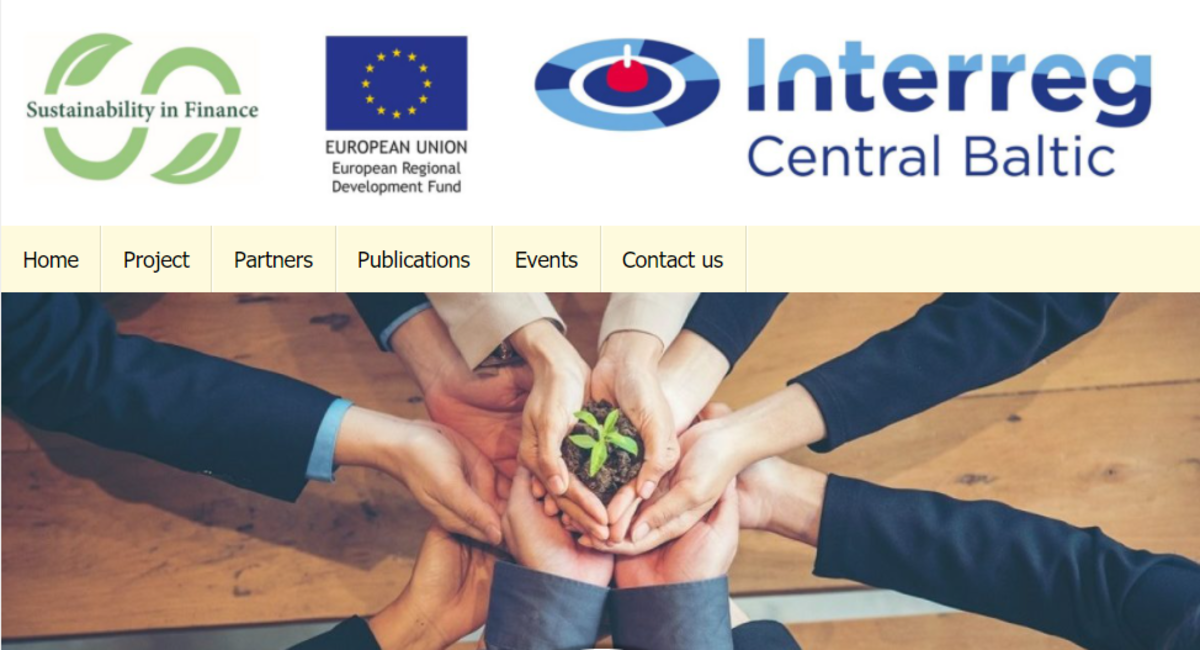 The INTERREG Central Baltic project "Sustainability in Finance – SuFi" (www.sufi.fi) consortium's meeting has been organised by Haaga-Helia University of Applied Sciences (the SuFi lead partner) on 16 November 2020 via Zoom. Seventeen representatives from six project's partners' institutions (Haaga-Helia University of Applied Sciences, Liepajas State Technical school, Tartu VEC, University of Latvia, University of Tartu and Åland University of Applied Sciences) have participated in the consortium's meeting.
The project's main expected result is an open online finance module (15 ECTS) that will be taken into use by VET institutions, therefore four lecturers from Haaga-Helia University of Applied Sciences gave several PowerPoint presentations to encourage all project partners to be more actively involved in the SuFi module framework elaboration process:
(1) Ville Hanni and Mika Mustikainen presented their proposal on the structure, content and learning outcomes of the sub-module "Sustainable finance";
(2) Heli Lankinen introduced a concept of learning design, shared her understanding of the online course design and production based on the Fitech model, brought to mind a formulation of learning objectives and learning outcomes using Bloom's taxonomy, and provided useful tips for MS Teams settings;
(3) Jani Siirilä introduced a draft framework for SuFi module as well as proposed objectives and learning outcomes of the two sub-modules "Sustainable development" and "Future vocational competences".
All partners were encouraged to submit their proposals on the content and ILOs of the sub-modules until 11 December 2020. It is planned to organise the SuFi project workshop to facilitate ideation and planning and to discuss the development of the SuFi module framework and further steps in more detail on 14 January 2021.
In the SuFi project, the University of Latvia is represented by Ieva Margeviča-Grinberga (a project's manager), Tamara Pigozne (a project's financial administrator and expert) and Svetlana Surikova (a project's expert and communication specialist).
About the project:
Sustainability in Finance - SuFi (Project's website)
Sustainability in Finance - SuFi (Central Baltic programme 2014-2020 database)