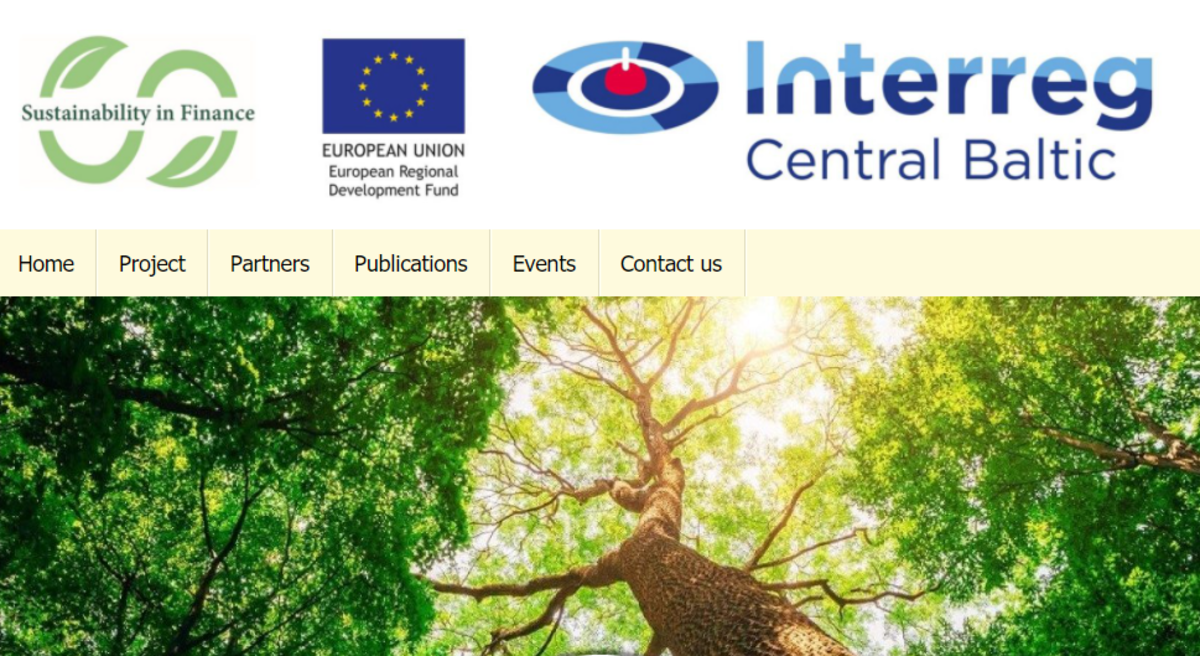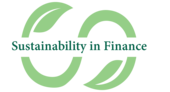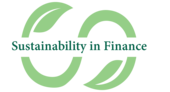 Kick-off meeting generally is held once the project planning is completed by the project consortium and usually its purpose is to ensure that everyone is aware of the project details and his or her role within the project. However, in projects that span multiple phases, it can happen at the beginning of a new phase. The INTERREG Central Baltic project "Sustainability in Finance – SuFi" (www.sufi.fi) kick-off meeting has been organised by Haaga-Helia University of Applied Sciences (the SuFi lead partner) on 25 September 2020 via Zoom at the beginning of the project's second phase aimed at (1) conducting the survey to find out the finance industry's expectations on future competences needed among business graduates, specifically in business education in finance as well as (2) elaborating the first draft of an open online module "Sustainability in Finance" for vocational education and training (15 ECTS).
Representatives from six project's partners' institutions (Haaga-Helia University of Applied Sciences, Liepajas State Technical school, Tartu VEC, University of Latvia, University of Tartu and Åland University of Applied Sciences) and two associated partners (Bank of Åland and Finance Finland) have participated in the kick-off meeting.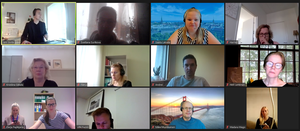 A project's manager and kick-off meeting moderator Jani Siirilä (Haaga-Helia University of Applied Sciences) has opened the meeting with a formal welcome speech and informal exciting warm-up activity "Zoom Bingo". Kristiina Siikala (Finance Finland) has presented a topic "Sustainability in the financial sector" based on her association's experience and expertise.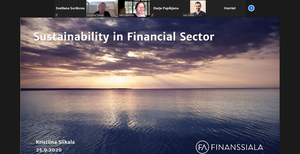 Harriet Bodö (Åland University of Applied Sciences) has reported on the SuFi working group progress regarding concrete suggestions for the SuFi survey. Saara Latvala (Haaga-Helia University of Applied Sciences) has reported on the SuFi communication activities already done and initiated a discussion "Do we need more visibility?"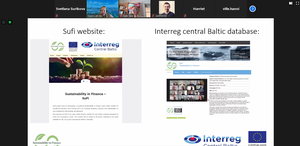 Anna-Stina Wiklund (Bank of Åland) has contributed to the SuFi kick-off meeting with a very interesting presentation "How can a small bank make a difference?" with a special emphasis on good practices and initiatives related to responsible and sustainable investments.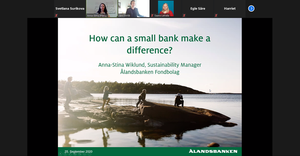 Ideation of SuFi module initiated by Jani Siirilä has been organised in three working groups using Zoom breakout rooms and Padlet software (https://padlet.com/) to make and share ideas with others answering the questions as follows: (1) What is the main learning outcome of the SuFi module? (2) What is the content of the SuFi module? (3) What are the main pedagogical risks and opportunities of the SuFi module in Moodle? At the end of the kick-off meeting everyone had an opportunity to provide a feedback on general organisation of the kick-off meeting and share his or her thoughts and feelings with other partners completing a short Google query. The next online meeting is planned to be held in November 2020 to discuss next steps of project's implementation.
In the SuFi project, the University of Latvia is represented by Ieva Margeviča-Grinberga (a project's manager), Tamara Pigozne (a project's financial administrator and expert) and Svetlana Surikova (a project's expert and communication specialist).
About the project:
Sustainability in Finance - SuFi (Project's website)
Sustainability in Finance - SuFi (Central Baltic programme 2014-2020 database)